Christoph Soeder
University: University of South Wales, Newport
Graduation: 2015
Genre: Portraiture
Website: www.christophsoeder.com
Artist Statement: My work focusses on people, most of the time in form of portraiture incorporating a conscious use of colour as well as a typological format which is used to describe people's identity as part of a community.
Clear-Cut synopsis: Clear-Cut shows customers at the 'Atlantic' barbershop in Newport/Wales. All sitters are photographed right after they got their haircut, but before they get cleaned up and while they still wear the barber's cape.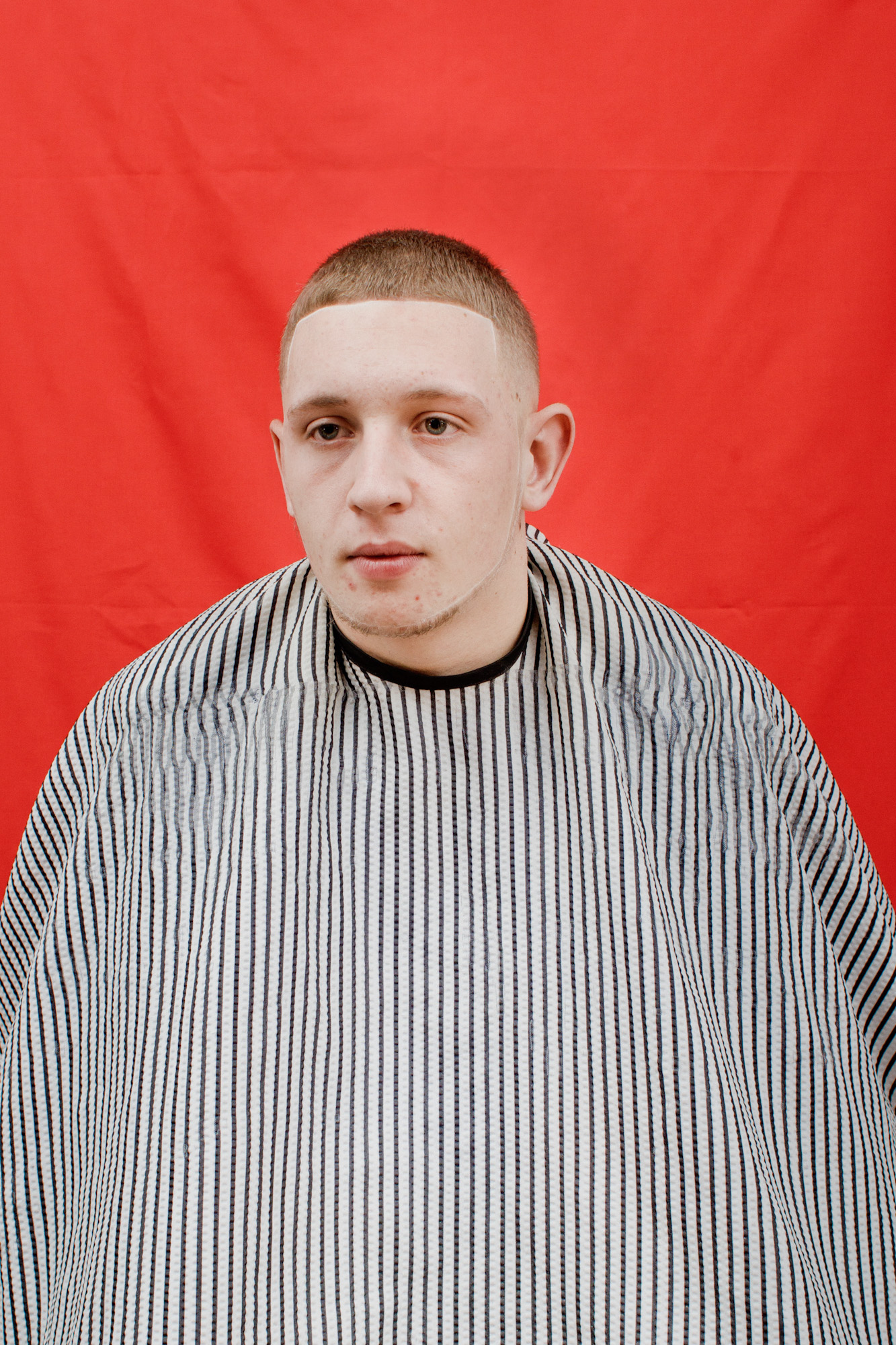 Images from the series Clear-Cut
Where did you attend university? University of South Wales, Newport studying BA Hons Documentary Photography.
What are some standout moments from your time at university? Being allowed to do a project at Ty Hafan, the only children's hospice in Wales and meeting people who face the most difficult situations with incredible courage.
Photographing Sally who's affected by the hair loss disease alopecia and who took off her wig for the first time in her life in front of a stranger for my project Unfading.
What are the biggest influences on your photography? The people I am photographing as well as the ones I have the pleasure to discuss photography and life with.
Tell us about any commercial work you have undertaken. I started working as a photojournalist before I came to study in the UK. Now my commercial work is also focused around portraiture. The last job I did consisted of photographing Andromeda Mega Express Orchestra, a band of 18 members. For this I mounted the camera on the ceiling where it was remote controlled and had all band members lying on the ground making them look like they were floating in space.
What advice would you give to someone who may be looking to apply to the Documentary Photography course at the University of South Wales, Newport? I had a great time studying on this course that is run by very experienced and knowledgeable tutors. Their feedback and the discussions with the fellow students provide a great framework to develop one's photographic language that I can only recommend.
What's significant about the red backdrop in the series Clear-Cut? The red simply reflects the colour of a wall that existed in the shop. However this wall was not plain enough and inconveniently located to be used as a backdrop, so I replaced it with cloth of the same colour.
What made you choose this particular barbershop to base your series around? Initially the diversity of people who go to this place to get their hair cut caught my attention. Once I went in I could hear stories from all over the world of people who fled their home country or others who grew up in the neighborhood. This richness was making me want to stay and find out more.
Can you explain to us what you're trying to say with this work? First of all, for me this work gives the viewer a glimpse of the people who come to this barbershop at this specific point in time. I find it particularly interesting how these people are all very different and form a community at the same time. Photographing people as a typology like this underlines this coexistence of their commonality and individuality because both qualities can amplify each other. This idea of the coexistence of the common and the uncommon is something that is of highest importance nowadays in Europe.
What encouraged you to photograph each sitter in the position they're in? Did you consider a full body shot, or even placing them closer to the camera? While figuring out my photographic strategy I did consider photographing people differently. However I was intrigued by how individual the body posture is even though all sitters wear the same gown. My impression was that keeping this uniformity underlines how different and unique everyone is.
In the Here and Now synopsis: When coming to Tŷ Hafan one walks up a road over a slight hill, behind which is the hospice overlooking the sea.
Tŷ Hafan opened its doors in 1999 and since then has helped over 500 families facing the unbearable reality that their child might die at a young age.
The work draws a picture of life at and around the hospice, it includes many different children, also siblings of children with a life threatening condition, the nearby sea and other aspects of the environment. The children are in many different states of health which is why someone may not recognise any difference between a healthy child and others with a life limiting condition. Others are severely disabled and need a lot of help or even life support.
Tell us about Ty Hafan - how did you take on this project; it must have been very emotionally difficult? Ty Hafan is the Welsh for 'haven house' and it is the only children's hospice in the whole of Wales. Unlike what many might think it is not a sad place but one where life is extremely appreciated and where everyone is committed to make the most from the present. This positive attitude struck me immediately as I went there the first time to introduce the project. On one hand the hospice provides end of life care if needed and on the other hand children come there with their siblings and parents for a regular stay around twice per year. The latter is more like a holiday relieving the parents from the often exhausting care for a while and allowing the children to enjoy an environment that provides all they need. Of course it can be emotionally very difficult but for me the predominant feeling was gratitude to the people there who were willing to share a part of their life with me and from whom I learnt a lot.
How did you find photographing vulnerable children and their families at such a poignant time in their lives? Did you ever feel like a part of the situation, or as if you were an outsider looking in? The process of getting to know the children and the families was very slow and careful and I stayed in close contact with them and the members of staff during the project. At the start there was a first meeting with each family and members of staff to introduce the project and see if they were interested in participating. If they allowed me to photograph them I would only do so if I felt it was right and if the carers who know the families very well felt the same. After that each family was given the photographs and could then give or deny consent for publication.
Why did you choose to make this work in black and white? For me black and white helps the images linking together, giving each equal importance in the set.
Why did you choose to photograph from the angles that you did - they come across as if you were out in the field, they're almost candid photographs from a war zone? I don't find this comparison valid nor appropriate. The photographs I know from war zones are made in many very different ways. What was most impressive at this place for me is the value of each lived moment and I hope that the angles varying from being in the midst of the happening to a perspective that is more observing to bring this across to the viewer.
What role does the sea play at Ty Hafan, did it affect you in any way when you were photographing at the hospice? Each time I looked at the sea in front of Ty Hafan it had changed its aspect. This reminded me of how every moment is unique in time and is reminiscent of the immense effort which is done at Ty Hafan to allow children and parents to experience this value.
What are your ambitions for the future? Where do you see your work taking you? Over the course of my studies my work started to focus more and more on the portrait which is also where I see it going in the future. Within this genre I enjoy working on both documentary projects as well as commercial and editorial work which I currently do in Berlin as an assistant and freelance photographer.